L&M BOUTIQUE AUSTRALIA
Elegant Baby Bags and Accessories to see you through every stage of Parenthood. Timeless Designs blending Innovative Construction, Impeccable Style and Functionality
Milana Baby Backpack Features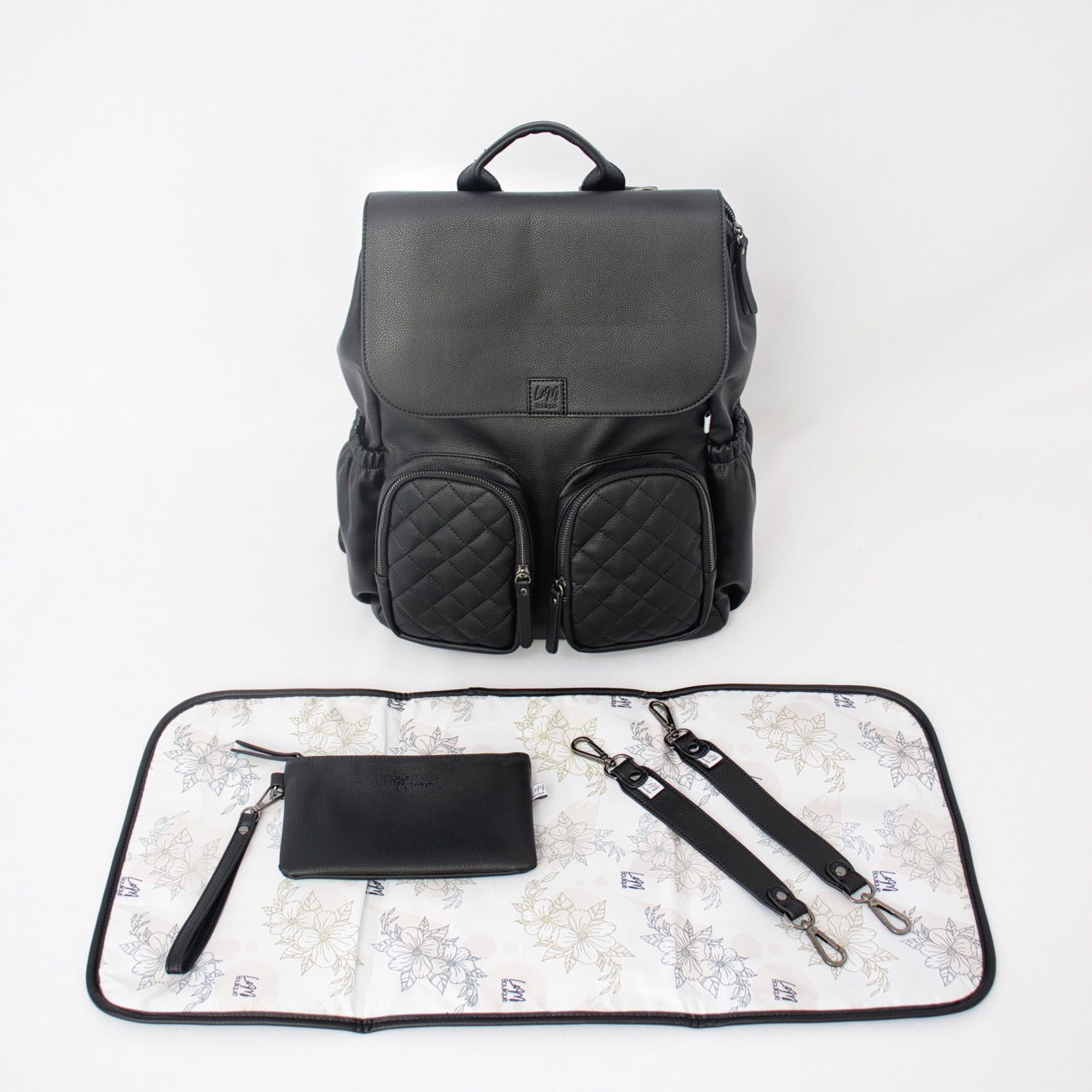 13 compartments

Exterior:

- Front zip compartments featuring integrated insulated elastic pockets for baby bottle, toddler cup, food pouches and snacks, pacifiers, teethers and other small essentials.

- Hidden zip compartment for your smartphone, keys or other valuables.

- Seperate padded laptop compartment with full lengths side zipper for easy access.

- Quilted slide rear compartment made to fit Child Health Record Book but can be used for anything you like.

- Side elasticated pocket great for water bottle or Sippy cup.

- Side elasticated Baby wipes pocket with integrated dispenser slot for easy access.

Interior:

- Hideaway zip pocket for valuables or loose items.

- Large elastic pocket for nappies, change of clothes, or breast pump.

- Two elastic side pockets for loose toys and two slide pockets with leather trim.

- Two leather clip loops for keys, pacifiers or clip-on toys.
Select 2 (TWO) Complimentary Accessories

Limited time offer*

Select up to 2 (two) COMPLIMENTARY Accessories to be included with every Milana Backpack order.

Accessories must be selected on the product page prior Checkout.

Selection:
Premium Quality

- Expert workmanship with Quality stitching and a Highest Standart construction that is designed to last

- Premium microfibre pebble leather 100% ECO Vegan - Water repellent, Crack, Scratch and tear resistant, Durable and Lightweight

- Exclusive Signature wipe clean L&M interior lining
Comfort Guarantee

Constructed with comfort at its core

- Padded Adjustrable Shoulder Straps and padded back

- Leather grab handle

- Smart design ensuring easy acess to every compatment

- Protective metal fit allow you to place the bag on any surface
BUY ONCE. BUY WELL
Sophisticated range of Premium Baby Bags and Nursery Staples for Contemporary Parents Defined by expert Craftsmanship, Originality and Smart Design
Video Presentation: "The Detail"
Milana Baby Bag in Action
DESIGNED TO IMPRESS - MADE TO LAST
100% ECO Cotton Nursery Changing Collection. Where Quality meets Elevated Aesthetics adding Luxury Touch to your Baby's room
Our Mission
Retaining unique signature through Enduring Appeal, Premium Material and Expert Craftsmanship. 
Blending Innovative Construction, Smart Design and Functionality with the highest level of dedication and attention to detail.
Upholding the values of Workmanship and Quality rather than Quantity
Let customers speak for us
Track L&M Boutique Order
Follow link below to track your package